There have been so many great questions about the wardrobe and actors in Zac Brown Band's "Goodbye In Her Eyes". Well, ask questions and you shall receive answers!

When it came down to who best envisioned Zac Brown Band's latest music video "Goodbye in Her Eyes," director Wayne Isham nailed it. Story boards with deep reds, accented with black and white images, set the tone that captured the passion, the drama and the fantasy of a circus-propelled romance. Zac loved the theme. With the band's busy tour schedule, the timing to prepare for filming came in under a week! Zac Brown Band is used to operating under a tight schedule so the team starting making arrangements to get it all done quickly. Who would design the elaborate wardrobe? Lucky for them, fashionista and stylist Shelly Brown, (Zac's wife) was on the case.

Zac and Shelly began researching different circus and carnival images with antique and vintage looks to start piecing together inspiration boards for the wardrobe. Shelly was in charge of the band and Jaime Murray's wardrobe. What you may not know is all the other circus performers were real circus workers and had their own. Zac was on the road during this time so Shelly would wait until their four daughters were sound asleep and sewed in to the night.

In particular, Shelly found inspiration for the female lead (Jaime), in photos of a woman named Mata Hari. Shelly found the images of Mata beautiful, ornate and her story very rich with interest and context. Mata was an exotic dancer and a courtesan who was executed in France for espionage during the second world war. Jaime sent Shelly her sizes and they kept in touch about the character and storyline. Shelly made a trip to her favorite hole in the wall fabric store in Atlanta that carries fashion fabrics from all over the world. She snatched up as much as she could find with vivid colors and textures, having no idea what the plan or designs were yet. Jaime's wardrobe was mostly custom and any extras actually came from Shelly's closet!

The final outcome were four perfectly-pieced custom outfits and a few styling options as well. View Jaime Murray's looks and captions by Shelly Brown below:
Look 1:

This was definitely the most intricate to make with all of the embellishment and feathers. I was inspired from all of the vintage circus photos we came across. - Shelly Brown

Look 2: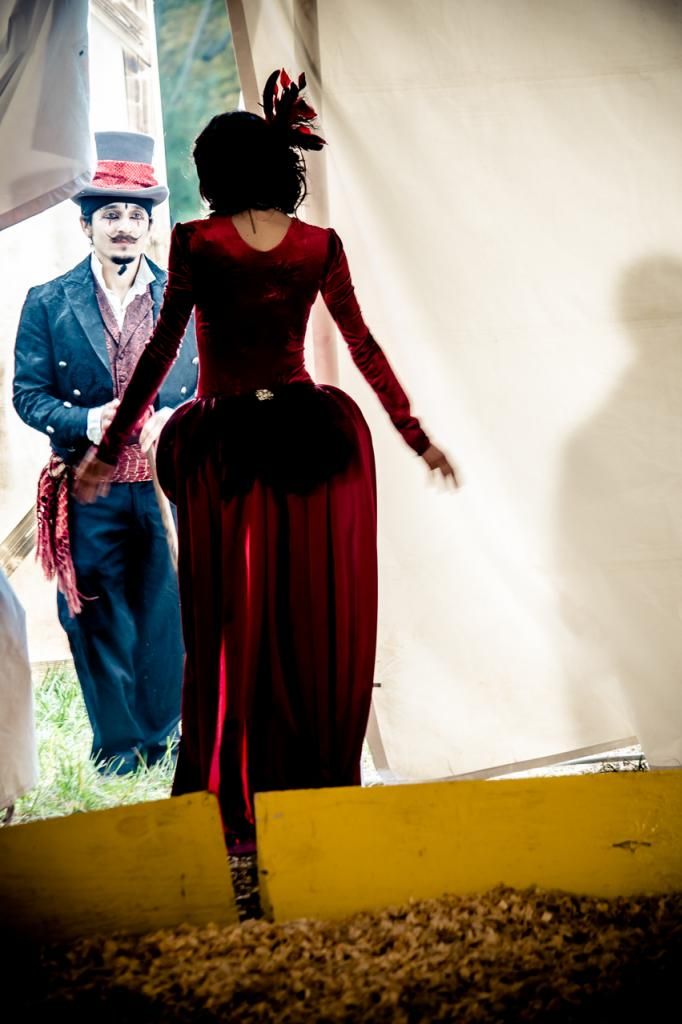 The red velvet cupcake dress. This one was so much fun and looked so beautiful on Jaime when she walked and danced. It was inspired by the old school tutus that had so much volume and were so colorful. I loved the way the train moved in the circus performance scene. - Shelly Brown (Photos by Jolie Loren)

Look 3:

The boudoir scene. This was inspired by a black vintage robe that was actually my bathrobe. I made the sheer black robe that Jaime wore over the black bustier. The sleeves really made the whole thing work. - Shelly Brown (Photo by Jolie Loren)

Look 4:

The other boudoir scene with the lace robe. The lace robe is by Haute Hippie and went so well with the whole vintage theme. - Shelly Brown (Photo by Jolie Loren)

Look 5: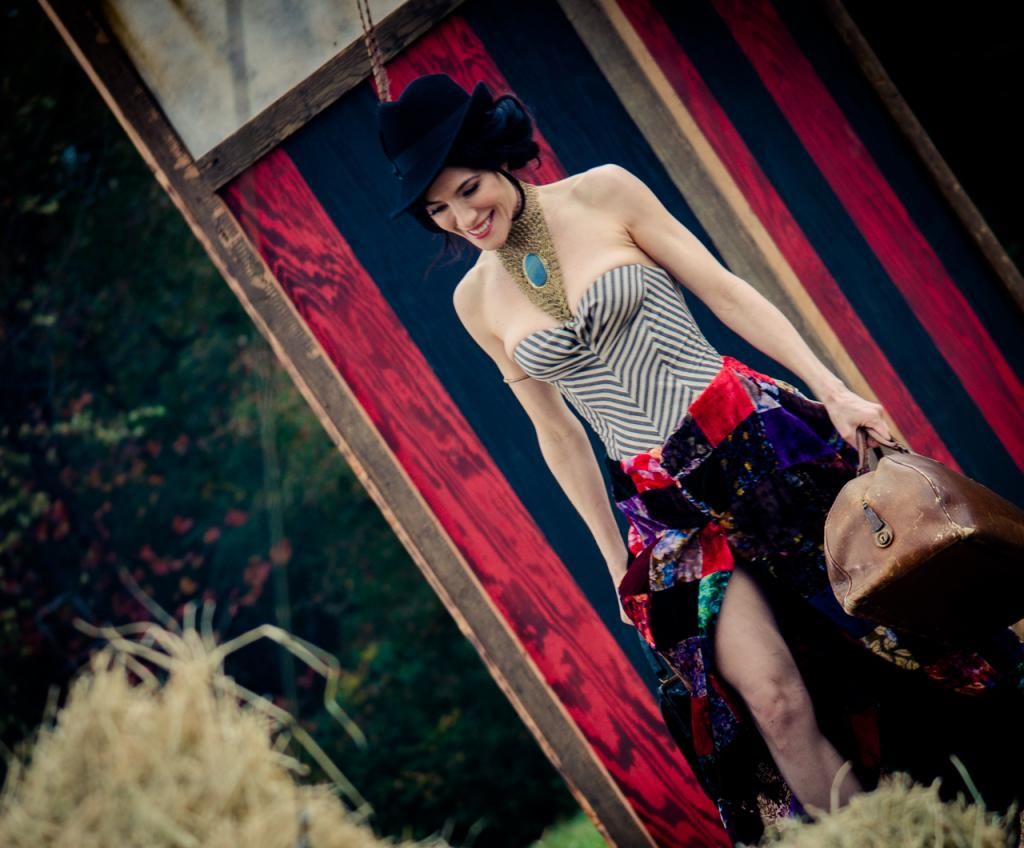 My favorite. This one was so perfect and actually inspired the colors for the painted "circus" sign that you see in the beginning and end of the video. It was a striped corset with a quilted velvet bustle skirt. Hat by Rag and Bone, necklace by Mania Mania. This to me was perfect for her "off-duty" attire. It was sexy on her but very gypsy at the same time. - Shelly Brown (Photos by Jolie Loren)
Zac Brown Band and Jaime Murray:

To see other behind-the-scenes photos from "Goodbye In Her Eyes", click here.
Want to see more on Jaime Murray? Check out the new Syfy series, Defiance, that begins April 2013 here!

Back