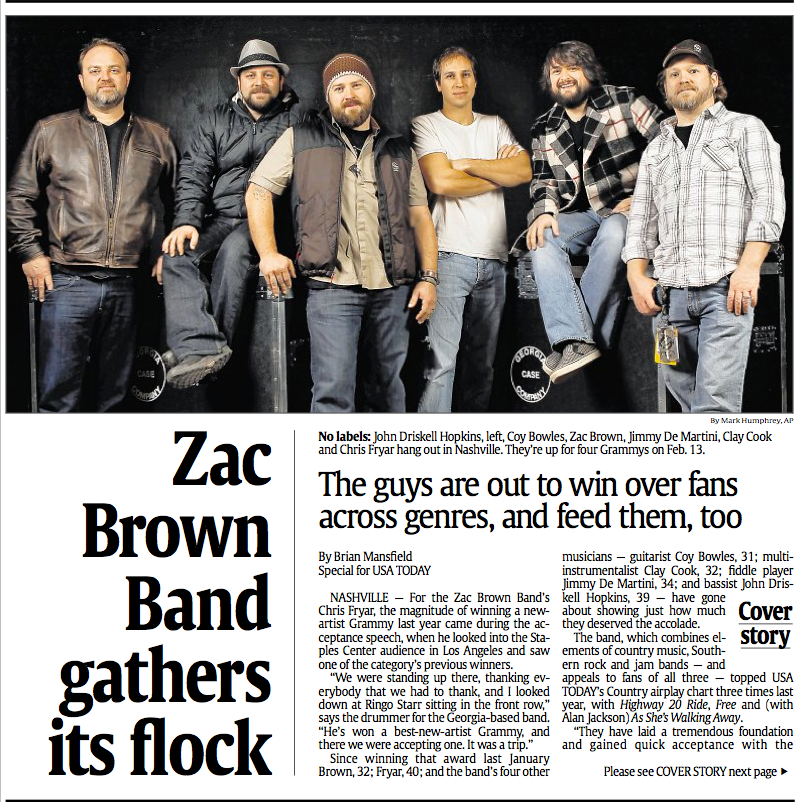 NASHVILLE - For the Zac Brown Band's Chris Fryar, the magnitude of winning a new-artist Grammy last year came during the acceptance speech, when he looked into the Staples Center audience in Los Angeles and saw one of the category's previous winners.
"We were standing up there, thanking everybody that we had to thank, and I looked down at Ringo Starr sitting in the front row," says the drummer for the Georgia-based band. "He's won a best-new-artist Grammy, and there we were accepting one. It was a trip."

Since winning that award last January Brown, 32; Fryar, 40; and the band's four other musicians - guitarist Coy Bowles, 31; multi-instrumentalist Clay Cook, 32; fiddle player Jimmy De Martini, 34; and bassist John Driskell Hopkins, 39 - have gone about showing just how much they deserved the accolade.

The band, which combines elements of country music, Southern rock and jam bands - and appeals to fans of all three - topped USA TODAY's Country airplay chart three times last year, with Highway 20 Ride, Free and (with Alan Jackson) As She's Walking Away.

"They have laid a tremendous foundation and gained quick acceptance with the audience," says Mike Moore, program director for country station KWJJ-FM in Portland, Ore. "That's a testament to hit songs, unbelievable live shows and musicianship."

Nielsen SoundScan ranked them as 2010's ninth-best-selling act. The band placed three releases - 2008's The Foundation, the new You Get What You Give and the live Pass the Jar - among SoundScan's 200 top-selling albums of 2010, putting them in the ranks of Justin Bieber, Taylor Swift, Lady Antebellum, Lil Wayne, Michael Jackson and the cast of Glee.

This year, the group is up for four more Grammys, with nominations in the country field for song, album, vocal performance and collaboration.

But the Zac Brown Band isn't your traditional country group.

"We're here to gather music lovers," says Brown, whose ever-present stocking caps are perhaps the most distinctive piece of headgear for any country singer in decades.

"I don't know why everybody wants to put everything in a box. It's almost like profiling."

Country collaborators
If you want to define the Zac Brown Band musically, you'd be better off looking at their collaborators: Jackson and Jimmy Buffett appear on the group's latest album; Brown guests on Kid Rock's Born Free album; and they've performed on the Country Music Association awards show with Charlie Daniels and on the Grammys with Leon Russell.

"We don't play with people that we don't like to play with," says Fryar, shortly before a recent Nashville show that featured guest appearances from three of the city's most respected musical figures: Jackson, singer/songwriter Mac McAnally and Dobro player Jerry Douglas.

Even with their ever-broadening musical reach, the group has become one of country radio's most reliable hit-makers, with six consecutive No. 1 singles, stretching back to 2008's Chicken Fried. (A seventh single, Colder Weather, is climbing the charts.)

More established country acts have also embraced them warmly. They'll support Kenny Chesney on his stadium dates this summer. And before the Nashville show, Jackson gave Brown a 1966 Cadillac Eldorado convertible. The vintage car was Jackson's way of thanking Brown for asking him to sing on As She's Walking Away.

"He was nice to include me on that," Jackson says of his fellow Georgian. "He's a pretty good fellow, and I just wanted to do something for him."

Brown feels that he and his band have found a home in country music. "As long as we have four or five songs on every record that can live on country radio, we don't plan on going anywhere."

Though the band's sound differs from other country acts, Moore says it's one that's familiar to the country audience.

"To me, it's reminiscent of James Taylor, who is someone that a lot of folks who love this format grew up with," Moore says. "It sometimes has a Jimmy Buffett feel, but it's very acceptable within what we define as 'country music.' "

Country may comprise the core of the group's commercial base, but when it comes to live performances, Brown says, "We plan on going out and conquering every music lover we can find."

The band's shows are four-hour extravaganzas full of hits, extended solos and cover tunes from a catalog that ranges from Charlie Daniels to Bob Marley to Van Morrison. They also usually include appearances by acts on Brown's Southern Ground Records roster, like roots duo the Wood Brothers and Atlanta singer/songwriter Sonia Leigh.

Nourishing the fans
Brown has plans to make the concert experience last even longer.

"We eventually want to roll in and feed everybody," says the onetime restaurateur.

The band travels with a customized 53-foot cooking trailer, like a food truck on steroids. Before a show, the band members may host a pre-show eat 'n' greet for 200 to 250 fans, friends and local VIPs.

Brown harbors ambitious plans to take over all concessions at the venues where they play, using a fleet of such tractor-trailer kitchens to offer high-end dinners - featuring Brown recipes like pocketknife slaw, beef filet with Georgia clay rub and pork tenderloin with "love sauce" - and even tailgate packages.

"Ninety percent of the people who come to a show go out to dinner, too," says chef Rusty Hamlin, whose 10-person crew fixes 640 meals a day on the road. "Why not bring it all together?"

The band greets all the diners as though in a receiving line at a wedding, then sits down and joins them for dinner.

"The idea is to make the concert experience full-sensory and to make everyone really feel like they got their money's worth," Brown says.

The band is currently off the road, and Brown's wife is expecting a daughter the week before the Feb. 13 Grammys.

Brown hopes for a repeat of last year's success, but not so he can add to his own trophy collection.

"I'm excited for Clay (Cook) to get a Grammy," Brown says, referring to the group's newest member, who joined in 2009 after writing songs for John Mayer and playing in a version of the Marshall Tucker Band. Cook wasn't credited on The Foundation and so didn't receive one of last year's Grammys.

The group will hit the concert trail again in March, playing Chesney's stadium shows and headlining their own tour.

"We love to play," Brown says, "whether it's for 50 people or 15,000. If there's people we need to win over, we bring them in, play for them, feed them."
Read the entire article here

Back